Keith
Executive Director As Executive Director at OVRC since the fall of 2011, Keith has a passionate enthusiasm for the work he does. He loves coming to work every day and wants that for each and every client that utilizes OVRC services. His vision is to provide clients with the resources, tools and services to target their job search and find the position that is a "good fit".
Because the world of work has changed significantly Keith is a strong proponent for providing the opportunity for clients to become self-sufficient in their job search.He is always looking at how OVRC can better serve clients. Part of that includes providing workshops that help clients to better navigate the changing labour market. He is proud of the dedication and expertise that OVRC provides clients as evidenced by the fact that clients tell others who are in need of job search support to come to the Centre. This demonstrates to compassion, caring and commitment each OVRC staff person has for clients.
His professional background includes working as an employment facilitator, computer instructor, radio announcer, parts and service manager in farm machinery dealership, and as a retail manager-all of which help him to understand and assist clients in their job search journey.
He is also an advocate of helping newcomers successfully transition into the Winnipeg workplace culture by providing volunteer opportunities and skills development.
Kristina
Career Counsellor Kristina is a Career Counsellor here at Osborne Village Resource Centre. She has over ten years of experience counselling individuals on post-secondary options and career directions.
From assessing an individual's values and skills in order to reveal strengths inside, to arranging volunteer experience and information interviews, Kristina is energized when it comes to all aspects of career destination.With a fascination for Labour Market Information and tracking Winnipeg job openings, she enjoys navigating through the National Occupation Classification and interpreting career research to clients.
With a passion for downtown Winnipeg urban living, community issues, and social justice, Kristina enjoys sharing Winnipeg resources to help individuals in the community successfully achieve professional pride.
John
Employment Facilitator John has been involved with the Osborne Village Resource Centre since March of 2010 and has recently obtained a full-time position as an Employment Facilitator.John has experience in a number of occupational fields which include Youth Justice Services, under the Child and Family Services Act (Ontario) and the Youth Criminal Justice Act (YCJA), Educational Assistant with the Lakehead District School Board and Framing for a locally owned and operated construction company.
On January 25, 2008 John was involved in an unfortunate work place accident which was significant enough to force him to change careers. This experience inspired John to help others and obtain his Career Coach Certificate from the University of Winnipeg / Winnipeg Transition Centre. John has practiced this new career at a number of places which include YES Canada and ORG Canada and developed a passionate enthusiasm for the work he does here at Osborne Village Resource Centre.John enjoys supporting individuals with resume and cover letter development and ultimately the main reason he wanted to get into this field was to HELP PEOPLE GET BACK TO WORK.
Betty
Computer Instructor/Employment Facilitator  Betty has been a volunteer with the Centre since 2003 and joined our team officially in 2012. Literally hundreds of our clients have benefited from Betty's patience and humor while backing up the OVRC's computer courses and now she brings that experience to the front of the class as the instructor.
Her background is writing and communications, and she applies that skill set in finding 'just the right turn of phrase' to helping clients create awesome resumes as an employment facilitator when she isn't teaching. (But really, what teacher ever ISN'T teaching?)
Over the years, she's also been a client of the Centre, doing job search work, having a resume done, taking all of the computer classes, and participating in several of their amazing workshops, so she understands what they offer from the perspective of the client as well as the volunteer.
She's been a member of the OVRC family for a very long time, and is thrilled at the opportunity to do work that she is passionate about with a fantastic group of people. She is the literal example of "do what you love and the money will follow", and a passionate advocate of volunteering in the field you want to transition into. After all, look what it's done for her!
Lianne
Career Counsellor  Lianne began her career as a Recreation Therapist moved from Saskatchewan to Winnipeg in 1997 and worked in various areas of recreation and rehabilitation. Lianne had originally obtained a Bachelor of Kinesiology degree from the University of Regina back in 1995.
Over the years, Lianne has continued her education in the fields of disability and rehab case management and most recently in career development. She is a certified Vocational Rehabilitation Specialist through Vocational Rehabilitation Association of Canada and continues to work as a private contractor in this field from her home. Prior to this, Lianne worked as a Disability Manager/Return to Work Specialist with Magellan Aerospace, Vocational Rehab Specialist for March of Dimes (Veterans Affairs), and as a Supportive Employment Consultant for the Manitoba Government before joining the Osborne Village Resource Centre as a Career Counselor and Workshop Facilitator this past January 2019.
Lianne obtained her Career Development Practitioner certification through the University of Winnipeg in 2016. She is also a certified Canadian Career Strategist and professional member of the Canadian Career Professionals of Canada (CPC) and the Manitoba Career Development Association. Lianne continues to upgrade her education in the field of employment and career development and is in the process of obtaining her Interview and Resume Strategist courses.
Lianne`s speciality lies in the work she has done over the past 7 years working with hundreds of individuals facing numerous barriers including those suffering from physical and/or psychological illnesses who could no longer work in their pre-disability role. This usually involved helping clients in finding a career that was both meaningful and self-sustaining. The process usually consisted of extensive vocational assessment of each individual, identification and clarification of employability need, development of an action plan, and finally mentoring and follow up.
In starting to work with Osborne Village Resource Centre, Lianne is very excited to be part of a dynamic organization and is eager to work with people in all stages of their employment journey via one-to-one career counseling and workshop facilitation. Lianne hopes to bring together her past knowledge and expertise and gain new insight from her clients and coworkers in all aspects of employment facilitation and career development.
Judy
Receptionist\Customer Service Representative Judy started at the Centre January 2, 2012 as our Receptionist\Customer Service Representative. She thoroughly enjoys all aspects of the job as well as getting to know our clients better!
In October of 2011, she started taking the Word classes offered at the Centre on Tuesday evenings. She enjoyed the warm and welcoming atmosphere so much that she continued with the Excel classes and that's how the connection to the centre's staff began! When the job at the front desk came up she didn't hesitate to jump at the opportunity to become part of the team at OVRC.Judy comes to the Centre with 17 years of Customer Service experience in the banking industry and a passion for helping people. She brings with her an energy and sense of fun! She loves talking to people and building relationships with her clients.
Outside of work she is a busy Mom and volunteer. She is an active volunteer for a charity called the Horse Connection Inc. which is involved in the use of horses to help keep youth connected to their education. Her weekends are full with activities with her family including skating and tobogganing in the winter and trips to the beach in the summer.
Lisa
Employment Facilitator  Lisa is an Employment Facilitator as well as the support person for our computer classes. She has experienced first-hand how the services offered at the Centre can make a big impact to improve the lives of others.She first came to the Osborne Village Resource Centre as a client attending the Targeted Job Search Workshop, followed by career counselling in 2014. It was through these appointments that Lisa discovered a whole new world of possibilities – careers that were achievable, and fulfilled her values of living a compassionate life.
She started on her path by becoming a volunteer at the centre, providing clients with assistance in their job search. While working at the centre, she also attended workshops to further develop her skills.Lisa brings a wealth of experience in the customer service industry. Her professional background includes working as a receptionist, sales and catering coordinator, sales manager and server.Lisa is committed to helping empower others and revels watching Osborne Village Resource Centre's clients improve their lives by finding gainful employment.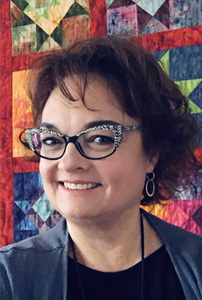 Val
Employment Facilitator Employment Facilitator Val joined OVRC in October 2019. She comes with recognized abilities in resume writing and a passion to help others be successful in finding the right professional environments for them to be the best versions of themselves. Val began her career at Winnipeg Transition Centre as a member of the Employment Coach/Workshop Facilitation team executing the Employment and Resource Services (EARS) job ready training program. During this time she attained the Career and Employment Coach Certificate and Practical Workshop Facilitation Skills Certificate program offered at Winnipeg Transition Centre and credited by the University of Winnipeg PACE. Upon receiving certification she also began facilitating in the Career and Employment Coach certificate training.
Val has been known as a "people broker" for years. She has an uncanny way of remembering details and refers back to that information in future interactions with people and as a result, makes people feel valued, heard and understood. She supports and empathizes when needed, asks challenging questions that encourage individuals to self-reflect and self-discover. She pushes people forward when they're ready and gives constructive feedback in a gentle, honest way that elicits acceptance and then leads to positive growth. She has excelled in putting her client's experiences in previous work environments into resumes that tell their story of skills and experiences in ways that make it easy for a future employer to see their strengths. Her intuitive ability to hear the story behind the words is how she helps her clients see their own experiences through fresh eyes.
Previous career environments for Val include:
Research Officer with experience in donor research, stewardship and Data Base Analytics and Integrity architecture Mediation Services Training Materials Coordinator introduced Val to active learning and interactive role plays as an adult learner and where she became intrigued by the successes of engaged learning. She attained a Certificate in Mediation, Leadership stream Executive Assistant roles, have honed skills in organization and procedural efficiencies as well as expanding abilities in Microsoft platforms and Volunteer initiatives have provided opportunities in leading philanthropy projects, coordinating retreats, facilitating workshops and involvement in board governance.
Val is a creative person and firmly believes that finding a creative outlet has the value of therapy. This quest for creative therapy has led her to a side hustle in Quilting, an interest in slow fashion, slow food, square foot gardening and small space living.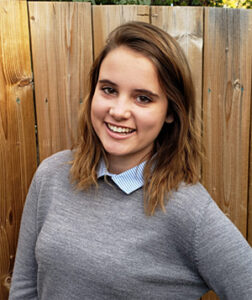 Tyanna
Volunteer Social Media Administrator  Tyanna is a recent addition to the Osborne Village Resource Centre and is excited to share her knowledge and passion of social media with the centre. She is currently studying Marketing Management at the University of Winnipeg. Previously, she attended Carleton University and obtained an Honours Bachelor of Arts in Psychology. Tyanna's favourite part of social media is the meaningful connections that are formed. She is excited to be able to connect more of the Winnipeg community with the helpful services provided by the Osborne Village Resource Centre.