Manifesting Positive Outcomes (Goal Setting) – COVID-19 Blog Edition – Session Three
Hi, it's Betty here. I'm back! Well, for certain strange socially-distanced values of back. *checks to make sure I am wearing adult pants and waves from behind Plexiglas shield*
OVRC is open for one on one appointments if you need help with a resume and a cover letter; call us at 204-989-6503 for details. We're being super careful about social distancing and cleaning. Virtual Positivity Workshop via Zoom coming soon – see the bit at the end for information and how to sign up.
On to today's topic – goal setting. It's long. Grab a coffee.
Up to this point we've talked about some daily practices you can do, and we've talked about how self-care works and why it's important to refill your tank.
I'll bet you anything, you read all that, did all the writing I told you to do in March and April, said, "yep, I'mma change all the things so I take better care of myself….." and then your life happened, so nothing ELSE did. Sound familiar?
It's actually pretty normal. We mean well, but unless we have a plan, and some personal (or interpersonal) accountability, things fall by the wayside. Change can be hard, even change that is good for you and will make you a happier person, even when you want to do it. Inertia sucks that way.
The most important part of implementing positivity practices is the how. So today we'll talk about SMART/ER goal setting. It's a way to make the transition from an idea to a result.
SMART/ER goals have the following elements (zoom in to read the graphic)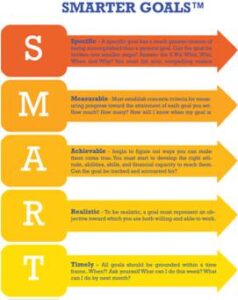 Specific / Measurable or Meaningful / Achievable / Realistic / Timely or Time Bound
Evaluate / Review or Reassess or Reward
Most people fail at goal setting for two reasons.
The first is that the goal is too big or too vague. "I need to eat healthier." "I need to lose weight." "I need to get more sleep." Without a plan, those don't really amount to much. I mean, technically I could lose about 75 pounds by chopping off my legs, but that doesn't seem wise in the long term. Especially since I live in a three story walk up!!
The second is that there is no accountability. Tony Robbins says that nearly everyone fails at New Year's Resolutions because we make them in a fit of energy and optimism, and then don't think about them until December 15th when we realize we haven't done a thing. So we need to build in regular check-ins, both with ourselves and preferably with others we care about. Most of us will do more for others than we will for ourselves. Keep this in mind.
Real World Example: Adjusting to Create a SMART goal
Many of you have heard of SMART goal setting but may not know how to actually do it. So here's my Real World Example: Because I was only getting 1000 steps a day working from home (and unfortunately, my fridge is much too close to my desk!!), I had to Do Something.
Here's my first goal: I need to be more active.
This, frankly, is a TERRIBLE goal. It's vague, it's not got any kind of accountability, and it's so big that it's overwhelming.
At the time I was struggling with this, my gym was closed and I was a little iffy about going outside. My gym had online workouts, but they're too hard for my fitness level. I tried doing a home based workout (shovelglove.com) but I'd overdo it and hurt myself.
Armed with this knowledge, I started to adjust my expectations. Note, I didn't say lower, but adjust. It needed to be something small enough that I could do it.
Adjusted goal: Commit to 30 minutes of physical / outdoor activity per day, M-F
Now we're making progress. I'm being more specific (S), this is measurable (M) (half an hour), achievable (A) (if it has to be in shorter blocks that's ok), it's reasonable (R) (this can include housework, playing Pokémon Go, playing Just Dance) and time-bound (T) (weekdays).
I haven't indicated exactly when this half hour will happen, or what I will be doing. This leaves me some flexibility in implementation. If I'm not allowing for the fact that intense housework is activity, I might try to do too much. You have to know your own limitations and needs.
Obstacles: Systems beat Intentions – every time
Now that we have a better goal, let's talk obstacles. Because it's been my experience that as soon as you say, "yep, I will do this!", the Universe steps in to see if you are serious or not. Think Morpheus taunting Neo in the fight scene in the Matrix.
What are some of the obstacles I ran into or anticipated?
I planned ahead for some 'not on my feet' choices. I even experimented with yoga / stretching.
I also had a weekly to do list and posted daily updates to my friends on Facebook.
I fit in the activity in the morning, before it got too hot for me to use that as an excuse.
I broke it into pieces if necessary. (15 minute blocks)
If I had a super intense day (cleaning), I gave myself a rest day.
For each obstacle (time/heat, discomfort, lack of accountability), I put systems in place to overcome them (shorter blocks / pre-book time in calendar, alternative movements, social media posting). I didn't count on willpower. Willpower always fails you, as will motivation.
I also used a particularly helpful mind hack, which suggests that doing half of something is better than doing nothing at all. If I only got in fifteen minutes of walking, so be it.
Advanced Goal Setting: Evaluation and Review / Reward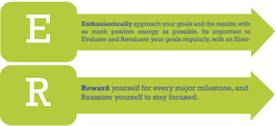 The last two parts of goal setting are Evaluation and Review (zoom in to read the graphic).
I can look at my To Do list and see if I actually did activity every day. I allowed myself to have a successful week if I had 80% compliance. Sometimes I would post on Facebook about unexpected victories.
Review was, am I doing something, am I varying my activity enough to make sure I do it consistently, and is the activity making me feel better? I found that on the days I got in my activity, I felt better overall and more able to cope with the general anxiety I was experiencing.
I rewarded myself at the end of nine weeks with a tablet computer. Rewards don't have to be monetary. I was also putting little holographic heart stickers on my calendar for every day I did a dedicated workout too!
If you don't evaluate and review, you can be doing something but not know if it's the right thing or if it's making a difference. Don't confuse activity with progress.
This applies to other kinds of self-care and positivity practices as well. Implementing a positivity journal, taking up a hobby or craft, making dietary changes, developing a housekeeping routine – these all lend themselves to SMART/ER goal setting. Pick something and give it a try!
VIRTUAL WORKSHOP!!!
I'll be running the Positivity Workshop online via Zoom on July 22nd, 2020 in the morning at nine a.m. You need to have a computer, and be able to use Zoom, but we'll go over many of the things I've talked to you about in these articles, and you'll be able to come up with your own answers to have a personalized plan. Call 204-989-6503 for more information and to register for the workshop.