When we talk about toxic workplaces, most people think we're talking about other people. But sitting at a computer all day can be toxic to your health as well. Most of us working virtually have to struggle with a less than optimal physical space as well.
One of the first places to start is your keyboard and mouse. Turn off your computer and wipe them down with an antibacterial wipe or some hand gel and a tissue. Wipe down your phone handset and dial pad too. This is ESPECIALLY important if you have to share your computer or desk with someone else. Germy fingers are no respecter of rank, and doing this a few times a week will help reduce the spread of those nasty colds that make the run of the office or your house, especially with kids.
If your eyes are often irritated, your workspace may be too dry. Look into adding a cold mist humidifier (these won't require a filter) to your desk. In a pinch, if you can't have one in your workspace, buy a small, low maintenance plant such as bamboo, and that will help with the humidity. (It creates oxygen too!)
Many people complain of eyestrain because they have difficulty seeing what's on their screen. Your screen should be about 18-24 inches (that's 45-60 centimeters) away from you. For most people, that's about arm's length. If you can't afford a bigger monitor, or you can't move it closer, try adjusting your screen resolution down a few notches. (My 24" monitor's recommended settings are impossible for me to read.) Right click on your desktop wallpaper, click on Screen Resolution and try moving the slider to one of the lower numbers it suggests. Click the OK button and it will show you the result. If you don't like it, wait a few seconds and it will switch back. If you DO like it, click on Keep Changes to permanently adjust your resolution.
Another cause of eyestrain is inadequate lighting. If you have a fluorescent over your head, make sure all the lights are working. If bulbs are burnt out, replace them. Adding a desk lamp can sometimes help if the overhead light is very far away or indirect.
The most common cause of eyestrain is just staring at the screen too long. Ergonomics specialists suggest we should stop and take a short 10-15 second break every five minutes and a longer 5-10 minute break once an hour. In the real world though, we get involved in a task and completely forget to take breaks. Sometimes we even forget to blink! There are quite a few free applications to help with remembering to take proper breaks:
PC WorkBreak: http://www.trisunsoft.com/pc-work-break/
Big Stretch Reminder: http://www.monkeymatt.com/bigstretch/
EyesRelax: http://themech.net/eyesrelax/
WorkRave: http://www.workrave.org
ONLINE options (no installation required):
Regular Breaks: https://regularbreaks.com/
Protect Your Vision (PYV): http://www.protectyourvision.org/
NOTE: I have personally been using the free WorkRave software for years now, since I tackled this topic the first time, and have found it to be very helpful in reminding me to stretch and pause from time to time while working. I disable it while I'm with clients because it would be disruptive to pause, but while answering e-mails or doing data entry it is quite effective and helps a lot with eyestrain and hand or shoulder pain from too much typing.
Because you are probably working from an impossible space (like your dining room table or a kitchen island or a corner of the garage on some milk crates), it might not be possible to create a perfectly ergonomic workspace. If you can afford one, an external mouse and keyboard will give you more flexibility with your laptop; you can raise it so that the screen is at a more natural viewing angle by putting some books or boxes under it. This will also help with virtual meetings, because you're going to be looking across at the monitor instead of everyone looking up at you from chin height. (Not flattering for anyone, ever, in my opinion.) If you have to use a household chair and a table that forces you to type with your elbows above your waist (your arms should be neutral, at about ninety degrees to the keyboard), and stretching is really important. I really like this five minute chair stretch routine from KaisaFit.
So there you have it: some things you can do to make the cubicle or office or even the rec room a better space to work out of. You may need to talk to your IT department (even if that's your wife, husband, or roommate) before changing settings or installing software on your computer, but the other changes you can do yourself. Now stretch, blink, and go get a glass of water!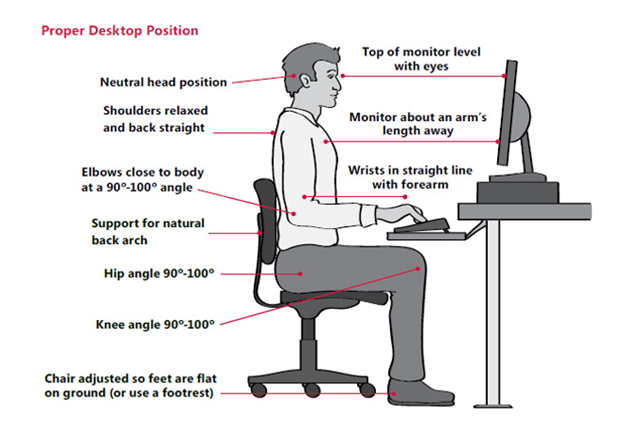 Image Source: University of Toronto