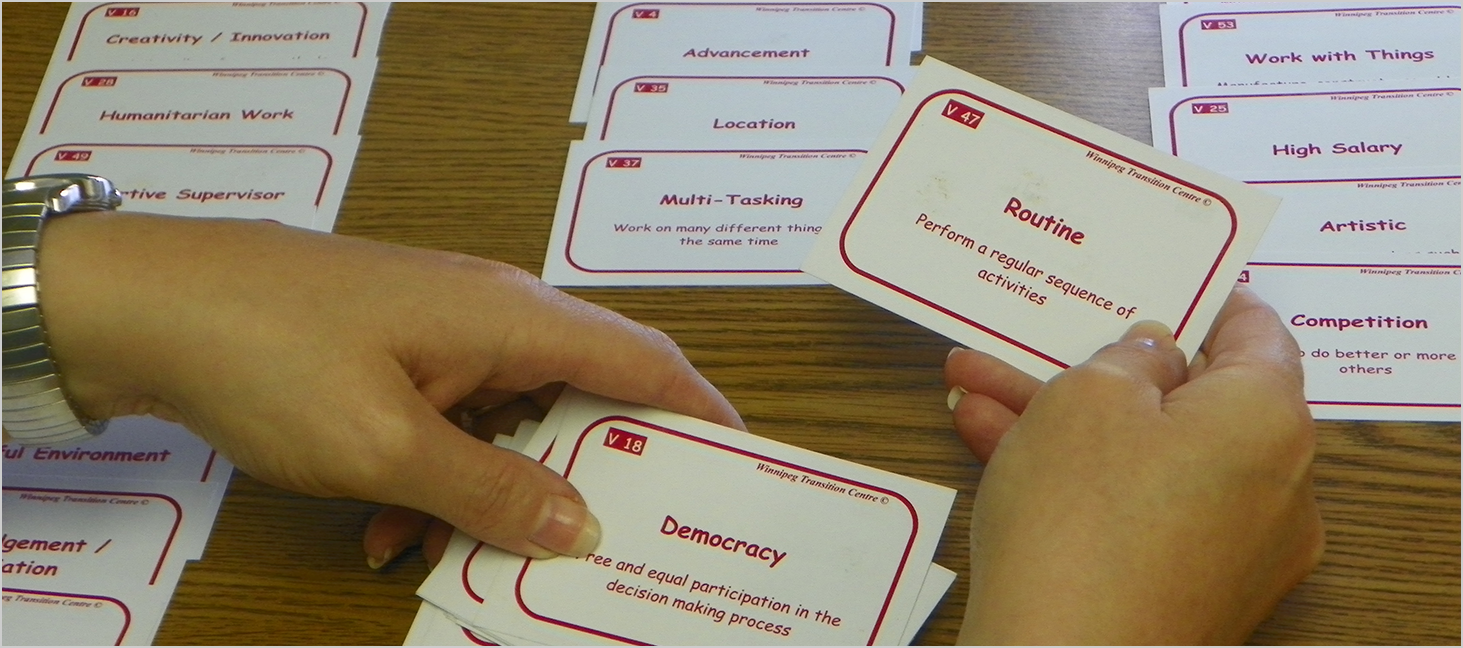 If you are in the process of trying to decide if it's time for a career change, but don't know how to get the ball rolling, set up an appointment with a career counsellor here at OVRC. You will be given the time and space to reflect on and identify your values, skills, attributes, work experience and personality type—all of which are vital to career exploration.
Next, you will be provided with career exploration resources that will provide you with detailed information on occupations in the various sectors that make up the Canadian economy. With this information, and the criteria you have identified in your self-reflection, you will be able to choose an occupation that fits your needs, goals and aspirations.
Working with your career counsellor in the final phase you will develop a specific, measurable, attainable, realistic and timely action plan to get moving towards your career goal. Gaining knowledge of the career exploration process is a life-long skill set that will not only help you move towards your next career goal, but will also be invaluable in helping you continue to set goals for set goals for job satisfaction in the future. You will:
Take an inventory of skills, values and attributes
Get the tools to research careers and jobs
Learn how to get up-to-date information about an occupation
Start building a new professional network
Develop an action plan to help you attain your goal
What Clients Are Saying
As well as the assistance with my resume, I wanted to thank you for also providing me with invaluable advice and resources to assist me in my search for suitable employment. I have to say I am quite impressed with your knowledge and your ability to determine what other assistance I could benefit from in the form of the various workshops the Centre offerers.
**********
I did find a job and it was in very large part due to the help I received from OVRC in re-designing my resume and changing the direction of my job search. John was helpful but who really assisted me was Kristina. She is an excellent job coach; she helped me determine what I want to do in my career, and showed how to write a winning resume that got me the job I have.
I feel this program contributes greatly to the economic wellbeing of our community by helping people get off EI and thus contribute to our tax system. It would be a misguided disaster if this program was cut by the provincial government and countless would not receive the assistance they so desperately need in achieving fulfilling employment. Please let me know if there is anything I can do; as a former political assistant with in depth knowledge of government relations, I may be able to help.
**********
Thank you so much for meeting with me yesterday. I found all your information and pointers helpful. Will update my one cover letter and use it as a reference. Would also like to let you know that I have secured a four month data entry temp position that is starting Monday. Thanks to all of you for the great work you do in helping people get jobs.
**********
I need to thank you for everything. You gave me fantastic information, skills, tips, and likely more important than anything else, confidence. Your support was timely, personal, and knowledgeable. You showed me how 'Friendly' Manitoba can really be. You were a large part of my success.